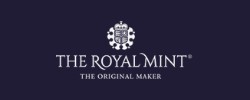 5 Silver Pounds Proof - 95th Birthday of Her Majesty the Queen - United Kingdom - 2021
5 Silver Pounds Proof - 95th Birthday of Her Majesty the Queen - United Kingdom - 2021Limited Edition in 7.595 pcs
Since 1977
In the heart of Milano
Official dealer
Istituto Poligrafico and Zecca dello Stato
Banca d'Italia authorization n°500823
Gold Professional Operator
Fast shipping - Free returns
Delivery in 48/72 hours. 30 days guarantee
Description
From a courageous young queen leading a post-war nation into the future to a proud great-grandmother within a growing family, Her Majesty The Queen's life has been characterized by an unprecedented number of royal achievements and personal milestones.
Now, as she becomes the first British monarch to celebrate a 95th birthday, we share in the joy of this significant moment in the extraordinary life and reign of Queen Elizabeth II.
Weight g. 28,28
Diameter mm. 38,61
Fineness 925/1000
In original package.
We don't accept orders of coins outside the Italian territory!
Data sheet
| | |
| --- | --- |
| Issue Year | 2021 |
| Country | United Kingdom |
| Type of Issue | Silver Coins |