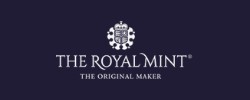 The Royal Mint
5 CuNi Pounds Fdc - King Arthur - United Kingdom - 2023
5 CuNi Pounds Fdc- King Arthur - United Kingdom - 2023
Since 1977 in the heart of Milano
Official Dealer Istituto Poligrafico e Zecca dello Stato
Professional Gold Operator (OPO)
Bank of Italy authorization n° 500823
Fast shipping and free returns
Free delivery over 69 €
Pick e Pay!
Pick up your order directly in store
Description
The legend of King Arthur is immortalised on an official UK coin.
Honour one of the most iconic figures in the canon of British myth.
Features a bespoke design that depicts King Arthur wielding his legendary sword, Excalibur.
Fdc Cupro-Nickel Coin
Weight g. 28,28
Diameter mm. 38,61
Cupro-Nickel
In original package.
We don't accept orders of coins outside the Italian territory!
Data sheet
| | |
| --- | --- |
| Issue Year | 2023 |
| Country | United Kingdom |
| Quality | Brillant Uncirculated |
| Type of Issue | Various Coins |
Our last Google reviews