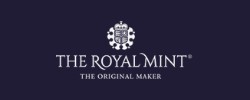 The Royal Mint
50 Silver Pence Proof - In memoriam Elizabeth II - United Kingdom - 2022
50 Silver Pence Proof - In memoriam Elizabeth II - United Kingdom - 2022
Since 1977 in the heart of Milano
Official Dealer Istituto Poligrafico e Zecca dello Stato
Professional Gold Operator (OPO)
Bank of Italy authorization n° 500823
Fast shipping and free returns
Free delivery over 69 €
Pick e Pay!
Pick up your order directly in store
Description
A commemorative coin struck to celebrate the life of HM Queen Elizabeth II.
The reverse design features the design of the 1953 Coronation Crown coin. Marking a new chapter for the British Monarchy. The obverse features the definitive official coinage portrait of HM the King.
Supplied in official Royal Mint packaging including presentation case, printed booklet exploring Queen Elizabeth II's historical legacy and and certificate of authenticity.
Proof Silver coin
Weight g. 8,00
Diameter mm. 27,30
Argento 925/1000
In original package
We don't accept orders of coins outside the Italian territory!
Data sheet
| | |
| --- | --- |
| Issue Year | 2022 |
| Country | United Kingdom |
| Quality | Proof |
| Type of Issue | Silver Coins |
Our last Google reviews