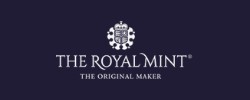 The Royal Mint
5 CuNi Pounds Fdc - The Rolling Stones - United Kingdom - 2022
5 CuNi Pounds Fdc- The Rolling Stones - United Kingdom - 2022
Since 1977 in the heart of Milano
Official Dealer Istituto Poligrafico e Zecca dello Stato
Professional Gold Operator (OPO)
Bank of Italy authorization n° 500823
Fast shipping and free returns
Free delivery over 69 €
Pick e Pay!
Pick up your order directly in store
Description
The Royal Mint concludes the series of coins dedicated to Music Legends, celebrating a rock n' roll institution: the Rolling Stones who in their 60th anniversary year continue to be one of the most popular bands in the world with a boundless repertoire of songs heard both yesterday and today.
The reverse of the coin, designed by Hannah Phizacklea, depicts the band members on stage during a concert and in front of a frenzied crowd. The inscription 62 and 22 to mark the 60th anniversary and the inscription 'The Rolling Stones', in the original 1973 typeface. As a coin approved by the Queen in early 2022, the obverse of the coin depicts the last portrait of the Queen Elizabeth II
Created in partnership with The Rolling Stones.
Fdc Cupro-Nickel Coin
Weight g. 28,28
Diameter mm. 38,61
Cupro-Nickel
In original package.
We don't accept orders of coins outside the Italian territory!
Data sheet
| | |
| --- | --- |
| Issue Year | 2022 |
| Country | United Kingdom |
| Quality | Brillant Uncirculated |
| Type of Issue | Various Coins |
Our last Google reviews