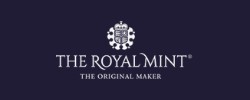 The Royal Mint
2 Silver Pounds Proof (1 oz) - Mahatma Gandhi - United Kingdom - 2021
2 Silver Pounds Proof (1 oz) - Mahatma Gandhi - United Kingdom - 2021Limited Edition 1/2.500
Since 1977 in the heart of Milano
Official Dealer Istituto Poligrafico e Zecca dello Stato
Professional Gold Operator (OPO)
Bank of Italy authorization n° 500823
Fast shipping and free returns
Free delivery over 69 €
Pick e Pay!
Pick up your order directly in store
Description
The man the world knows as Mahatma Gandhi trained as a lawyer, became a significant political leader and a powerful advocate of non-violence.
He played a leading role in the campaign of non-cooperation with Britain that led to India becoming an independent state.
This UK coin celebrates the life and legacy of Gandhi, an inspiration to billions of people and an unmistakable icon of peace.
Proof Silver coin 
Weight g. 31,21
Diameter mm. 38,61
Fineness 999/1000
Limited Edition 2.500 pcs
In original package.
We don't accept orders of coins outside the Italian territory!
Data sheet
| | |
| --- | --- |
| Issue Year | 2021 |
| Country | United Kingdom |
| Quality | Proof |
| Type of Issue | Silver Coins |
Our last Google reviews