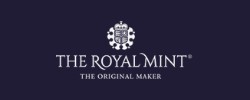 The Royal Mint
1 Silver Pound Proof (1/2 oz) - Music Legends - David Bowie - United Kingdom - 2020
1 Silver Pound Proof (1/2 oz) - Music Legends - David Bowie - United Kingdom - 2020
Limited Edition 1/12.500
Since 1977 in the heart of Milano
Official Dealer Istituto Poligrafico e Zecca dello Stato
Professional Gold Operator (OPO)
Bank of Italy authorization n° 500823
Fast shipping and free returns
Free delivery over 69 €
Pick e Pay!
Pick up your order directly in store
Description
A Limited Edition Presentation of only 12,500 coins.
The perfect gift for all fans of David Bowie.
The only coin in the range presented in a unique acrylic block.
Presented complete with a fascinating booklet detailing Bowie's life and career.
The latest release in our exciting Music Legends collection.
Finished to Proof standard.
Proof Silver coin
Weight g. 15,71
Diameter mm. 27,00
Fineness 999/1000
In original package.
We don't accept orders of coins outside the Italian territory!
Data sheet
| | |
| --- | --- |
| Issue Year | 2020 |
| Country | United Kingdom |
| Quality | Proof |
| Type of Issue | Silver Coins |
Our last Google reviews