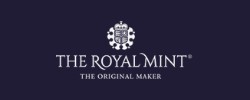 The Royal Mint
100 Gold Pounds (1 oz) BU - Britannia - Charles III - United Kingdom - 2023
This product requires an additional fee of 2.00 €
100 Gold Pounds (1 oz) BU - Britannia - United Kingdom - 2023
---
IS IT A GIFT?
Since 1977 in the heart of Milano
Official Dealer Istituto Poligrafico e Zecca dello Stato
Professional Gold Operator (OPO)
Bank of Italy authorization n° 500823
Fast shipping and free returns
Free delivery over 69 €
Pick e Pay!
Pick up your order directly in store
Description
The Britannia 2023 bullion coin redefines security in the bullion market. Created by the team behind the United Kingdom's 12-sided £1 coin, which is known as 'the world's most secure coin', Britannia has evolved once more to spearhead the best security technology available and lead the way as the most visually secure coin in the world. Philip Nathan's award-winning Britannia design from 1987 depicts an enduring symbol of a nation, boldly standing beside a shield that bears the Union flag – a symbol of Britain's strength – whilst holding an olive branch representing peace.
Struck in 999.9 fine gold and enhanced with four new features, Philip Nathan's Britannia design is as beautiful as ever on this bullion coin. In the lower left-hand of the design, below Britannia's flowing gown, a trident represents her naval history and as the viewer changes their perspective this trident becomes a padlock, emphasizing the coin's secure nature. Surface animation reflects the movement of waves and fine details such as the Union flag on Britannia's shield have been carefully highlighted with tincture lines. These added security features both decorate and protect the coin, just as the micro-text that borders the design states – 'Decus et Tutamen', which translates as 'An ornament and a safeguard'.
Gold Coin
Weight 1oz
Diameter mm. 32,69
Gold 999,9
In a coin capsule with warranty certificate.
We don't accept orders of coins outside the Italian territory!
Data sheet
| | |
| --- | --- |
| Issue Year | 2022 |
| Country | United Kingdom |
| Quality | Brillant Uncirculated |
| Type of Issue | Gold Coins |
Our last Google reviews