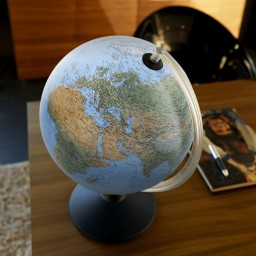 Nova Rico
Elite - Globe (Ø 30 cm)
€42.50
Free shipping in Italy for orders from 69 euros
Elite - Globe (Diameter 30 cm)
Since 1977 in the heart of Milano
Official Dealer Istituto Poligrafico e Zecca dello Stato
Professional Gold Operator (OPO)
Bank of Italy authorization n° 500823
Fast shipping and free returns
Free delivery over 69 €
Pick e Pay!
Pick up your order directly in store
Description
The globes with the classic blue sea are made of images and data processing through the use of modern techniques with GIS (Geographic Information System).
When the interior light is switched on, the information of physical geography are added those of political geography, for a more complete learning.
The globe has an internal lamp that turns it into a useful learning tool in an elegant piece of furniture. 
TECHNICAL DATA
Diameter: 30 cm
Map: Physical/political cartography (Italian Language)
Base: Shockproof in blue resin
Meridian: Plastic with transparent "satin crystal" finish
Light: halogen 18W
Our last Google reviews