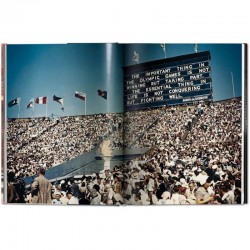 Taschen
London Portrait
€49.99
Free shipping in Italy for orders from 69 euros
Since 1977 in the heart of Milano
Official Dealer Istituto Poligrafico e Zecca dello Stato
Professional Gold Operator (OPO)
Bank of Italy authorization n° 500823
Fast shipping and free returns
Free delivery over 69 €
Pick e Pay!
Pick up your order directly in store
Description
London calling
A photographic journey through the history of this epic city
Samuel Johnson famously said that: "When a man is tired of London, he is tired of life." London's remarkable history, architecture, landmarks, streets, style, cool, swagger, and stalwart residents are pictured in hundreds of compelling photographs sourced from a wide array of archives around the world. London is a vast sprawling metropolis, constantly evolving and growing, yet throughout its complex past and shifting present, the humor, unique character, and bulldog spirit of the people have stayed constant. This book salutes all those Londoners, their city, and its history. In addition to the wealth of images included in this book, many previously unpublished, London's history is told through hundreds of quotations, lively essays, and references from key movies, books, and records. From Victorian London to the Swinging 60s; from the Battle of Britain to Punk; from the Festival of Britain to the 2012 Olympics; from the foggy cobbled streets to the architectural masterpieces of the millennium; from rough pubs to private drinking clubs; from Royal Weddings to raves, from the charm of the East End to the wonders of the Westminster; from Chelsea girls to Hoxton hipsters; from the power to glory: in page after page of stunning photographs, reproduced big and bold like the city itself, London at last gets the photographic tribute it deserves.

Photographs by: Slim Aarons, Eve Arnold, David Bailey, Cecil Beaton, Bill Brandt, Alvin Langdon Coburn, Anton Corbijn, Terence Donovan, Roger Fenton, Bert Hardy, Evelyn Hofer, Frank Horvat, Tony Ray-Jones, Nadav Kander, Roger Mayne, Linda McCartney, Don McCullin, Norman Parkinson, Martin Parr, Rankin, Lord Snowdon, William Henry Fox Talbot, Juergen Teller, Mario Testino, Wolfgang Tillmans, and many, many others.
Specifications
Author: Reuel Golden
Dimensions: cm 25,0 x 34,0
Pages: 552
Language/s: italian, spanish, portuguese
Cover: Hardcover
Weight: 4 kg
Our last Google reviews